..:: Welcome ::..
Montiadis Rent a Moto is the bike and scooter rental of Andreas en Herma Montiadis and is situated on the beautiful island Rhodes. You can find us in the village of Trianda at Miykinon street or in Ixia straight across hotel MiraMare. Situated directly on the main road so you can't miss us. Tel 22410-90981
..:: More languages ::..
We speak the following languages (almost) fluently: Dutch, English, German and surely Greek. All questions you might have about renting a bike or scooter can be answered in those languages. This helps to prevent a lot of misconceptions.
..:: Insurance ::..
All bikes and scooters are all-risk insured. With an own risk of 50-100 euro for scooters 50-80cc and 200 euro for bikes and quads. Damage made to a third party is all risk. A sure feeling for both parties.
..:: Bikes ::..
Montiadis Rent a Moto has several models of bikes and scooters to rent. Ranging from the heavy shopper models like the Yamaha Drag Star to the somewhat lighter off-the-road models like the Yamaha XT or Anhelo. Weather you like to tour around easily on the main roads or if you like to explore , Montiadis Rent a Moto has the bike to fit your wishes. Of course to ride a bike or scooter in Greece you have to own a legal driving license.
..:: Scooters ::..
In case you do not own a bike driving license but want to move around and explore the Island on two wheels anyway, the scooter is the solution for you. All scooters are having power (50 to 80 cc) so you can use it with two persons.
..:: Licenses ::..
To rent a scooter you need to own a legal scooter certificate with AM on it and it is now know that non EU citizens need an international driving license. Of course we do expect you to have some experience driving a scooter.
..:: Prices ::..
The price you pay depends on the model of bike you like to rent and the amount of days you like to use it. In case you like to rent more than three days you will notice that the prices will become more attractive!
.:: Helmets ::..
The use of a helmet is obligatory also on Rhodes. We advise you to use the helmet for your own safety. Montiadis Rent a Moto has enough helmets (in different sizes and models) in stock.
..:: Questions and information :..
If you have any remaining questions, please send us an email and we will provide you with the needed information. We hope to see you soon on Rhodes and wish you a pleasant holiday !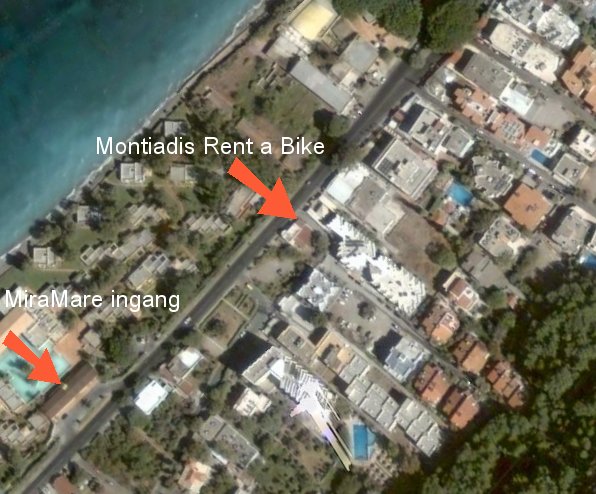 ..:: More information about Rhodos ::..